Newsletter Video, June 2018
Click Below - Add Your Own Comment
Share with Family & Friends
Please share this with family, friends, and on your social networks.
QUIZ: Do You Understand How to Treat Neck Pain?
Take our quiz to test your knowledge. Click here.
Here's How Your Physical Therapist May Help
Your physical therapist may advise you to:
Rest the painful area by avoiding activity that causes worsening symptoms in the neck or arms.
Stay active around the house, avoid prolonged bed rest, and go on short walks several times per day. Movement will decrease pain and stiffness, and help you feel better.
Perform the simple neck movements he or she will teach you. These can help reduce stiffness and pain and restore normal motion of the neck.
Apply moist heat or ice packs to the affected area for 15 to 20 minutes every 2 hours.
Sit in firm chairs. Soft couches and easy chairs may make your problems worse.
Change your work ergonomics to decrease stress on your neck.
Consult with a physician for further services, such as medication or medical tests.
Reference: APTA's Move Forward. Click here for more information.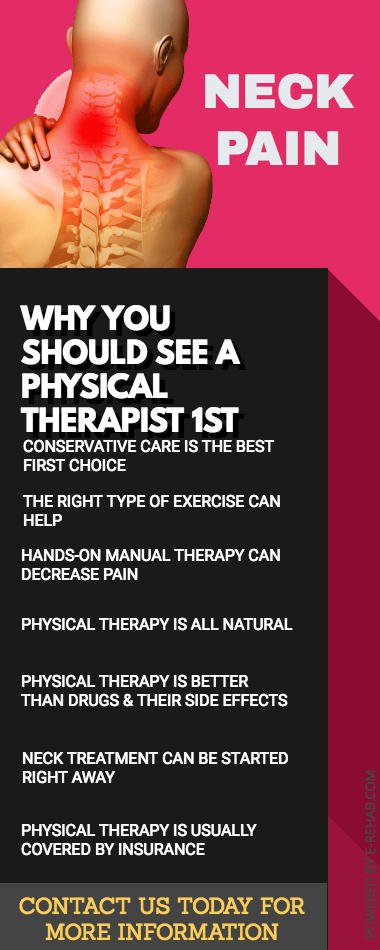 Disclaimer
The information in this video is intended for informational and educational purposes only and in no way should be taken to be the provision or practice of physical therapy, medical, or professional healthcare advice or services. The information should not be considered complete or exhaustive and should not be used for diagnostic or treatment purposes without first consulting with your physical therapist, occupational therapist, physician or other healthcare provider. The owners of this website accept no responsibility for the misuse of information contained within this website.